This past Christmas (as always), Tara got me a really thoughtful gift. A yet-to-be-chosen print by local Guelph printmaker Clive Lewis!
And on top of that, knowing how much I enjoy learning how other artists work, she reached out to Clive and arranged a studio tour! We were introduced to his work by way of the fun Art on the Street festival a few years back and have been fans of his stark landscapes and bold abstract prints ever since.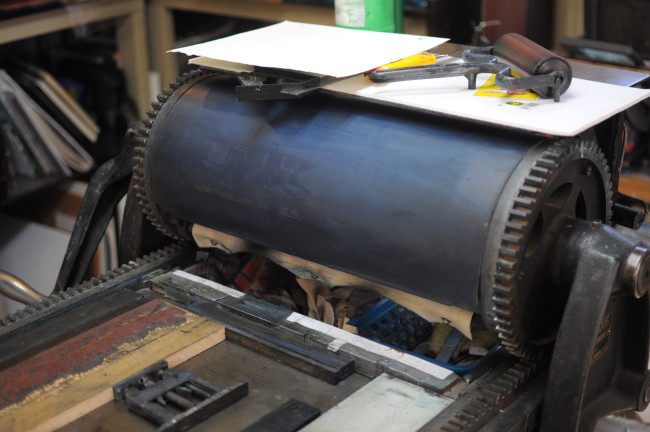 Clive was very welcoming and happily showed me around his home-based studio as I peppered him with questions. He has a Vandercook No. 2 proofing press which was typically used for proofing type and woodblock illustrations and as such, ideal for block printing. Clive uses the old letterpress method of wooden "furniture" and metal quoins to lock up the engraved blocks into position on the press. I was curious about his pin registration system and he gave me a quick demonstration; I was vaguely aware of this technique but had never seen it in action. The combination of tightly locked up blocks and the registration system allows for precise alignment of multi-colour prints.
In order to produce large engravings, Clive uses a vinyl material more commonly used in flooring. It requires more preparation (sanding and mounting) but he demonstrated how it holds fine details much better than the so-called "artist-grade" materials. Along with offering helpful tips on sharpening my carving tools, I was also pleased to discover he uses Stonehenge paper for his prints (my preferred choice too).
I'm excited to choose a print from his collection to adorn our (ever-shrinking) wall-space at home. I may just have to put it up in my studio instead! You can have a look at the full set of photos from my tour over on Flickr.